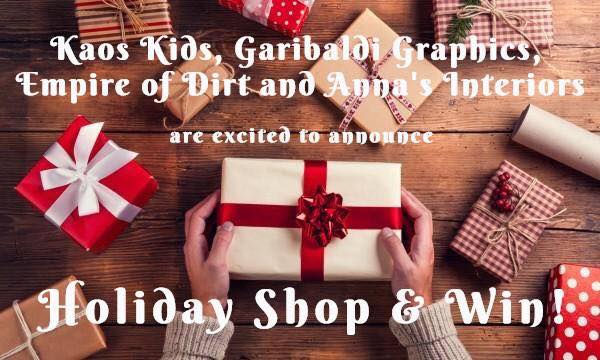 Garibaldi Graphics, Empire of Dirt, Anna's Interiors and Kaos Kids in Squamish are excited to announce a unique Holiday Shop & Win contest for 2018!
We've joined together to reward our customers this holiday season. It's our way to thank YOU (our fabulous customers) for shopping with us and supporting local businesses.
Similar to past shop & win programs, collect stamps for every $10 you spend at participating stores. With 10 stamps your card is full and ready to be entered into the contest. Each store will have a draw box where you can submit full cards.
Here's where it's a little different: if you fill up a card at one store, it goes in THAT stores box for a chance to win a gift certificate for that store. (eg. If you fill a card at Kaos, it goes in Kaos' box and could win gift certificates to be used at Kaos). If you have a mixture of stamps from different stores, you get to CHOOSE which stores box you put it into.
Each store is giving away gift certificates valued at a total of $500!! That's $2000 in prizes to be won!! Depending on the store, there may be multiple winners, or a single winner. See individual stores for further details.
Holiday Shop & Win Starts Wed Nov 7, 2018. All entries must be submitted by Draw Time: 3:00pm on December 21, 2018